Volume 4 Issue 5
1. Corrosion behavior of magnesium alloys in sodium sulphate solutions with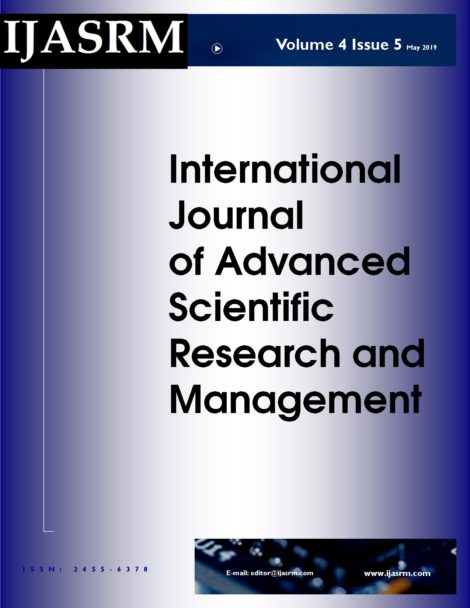 different pH 
G.M. Abd El-Hafez, H.H. Mohammed and N.H. Helal
2. Stability Analysis of AC Microgrid taking into account the Load Dynamics 
Aziz Ahmad, Mohd.Zillurrahman, Safdar Tanweer and Naseem Rao
3. Talent Management– A perspective to Employee's Efficiency and Career Development 
Pooja Singh and Swati Mishra
4. Impact of capital budgeting decisions on financial performance of Small and Medium Enterprises (SME's): A case study of SME's of Jammu and Kashmir 
Sheikh Aamir and Javed Iqbal
5.Isolation of biomethanated effluent (BME) Degrading Bacteria and Fungi
Snehal Agnihotri, Rashmi Vishwakarma and Suneeta Panicker
6. Comparison of Double Sampling Plan with Single Sampling Plan in Supply Chain Management System – A Simulation Study 
S. Ravi Sankar and M. Jeganathan
7. Spatial Pattern of Criminals in Chennai City: A Geospatial Based Approach 
Sivasankar.S
8. Promoting Gender Equality In Workplace: A Conceptual View
Siti Subaryani Zainol, Azni Suhaily Samsuri, Tengku Rahimah Tengku Arifin, Suhaili Mohd Hussin and Zam Zuriyati Mohamad
9. A Survey of Soft Computing Techniques for Dental Disease Analysis 
S.Poorani and Vasantha Kalyani David
10. Electronic Distribution of hotel rooms:A paradigm shift 
Arati Prabhu
11. Assessment of the Methods for the Implementation of Green Supply Chain Management in Industries
Rajesh Kumar and Shiena Shekhar
12. Trash to Treasure – An Empirical Study of Informal Waste Pickers in Solid Waste Management in Puliangudi Municipality, Tamil Nadu, India
K.S.Selvanayaki and P.Kailasasundaram
13. Qualitative Analysis: Issues and barriers of Medication Management in Residential Aged Care Facilities 
Mariani Ahmad Nizaruddin, Nurul Dania Abdul Rahman,Marhanis Salihah Omar, Adliah Mhd Ali and Mohd Makmor Bakry
14. Ramsay Hunt Syndrome with Post Herpetic Neuralgia: A Case Report  
Neha Verma and Shilpi Gangwar
15. Assessment of Ground water quality used for Drinking water supply of Guvvalacheruvu village using Water Quality Index 
M. Govindamma, S. Sumithra and P. Mercy Jasper
16. Determining Employees' perception towards Customer Relationship Management practices in the Indian Aviation sector 
Pawanjot Kaur and Sarang Narula
17. Development and standardization of low glycemic index foods for type 2 diabetic patients 
G.Kavitha and S.Parameshwari
18. Near Duplicate Web Page Detection for Efficient Web Crawling: A Survey
S. S. Bhamare
19. Effect of soil amendments with organic composting on the yield of capsicum (Capsicum annum L.) 
Neetu Soni, Laxmi Meena and Ashwani Kumar Verma
20. Role of CRM Initiatives of Life Insurance Corporation of India to Satisfy the Customers 
[DOI:10.36282/IJASRM/4.5.2019.1469]
Sucheta Rani and Anil Kumar Soni
21. GC-MS Analysis For Identification Of Bioactive Compounds In Crude Methanolic Extracts Of Leaves Of Origanum Majorana L. Plant 
Khushbo Bhardwaj and Widhi Dubey
22. Importance of customer relationship management (CRM) in Indian banking sector 
G. Kalaiarasi and C. Mugunthan
23. Some double integrals involving g-function of two variables 
Shukla Vinay Kumar
24. Phytochemical Screening and Medicinal Potential of Phyllanthus niruri
Amreen Suhel Fatema, Shravan Kumbhare and Rajkumar Khapekar
25. Impact of Contract Farming on price and quality of Agriculture Produce in selected districts of Maharashtra 
Nagnath Bembde and Pravin Tamgadge
26. Newly Developed Eco-friendly Bio-based Polyurethane Coating for Enhanced Materials Properties for Outer Structure Applications in Aeronautical Industries 
Abhishek Chandramohan and Prashaant Chandramohan
27. A Study of Awareness of Generic Medicine in Nanded City 
Aarti More, Saniya N. Lalani, Abhishek O. Gill and M. S. Altamash
28. Synthesis, Crystal Growth, Spectroscopic and DFT studies of 2-[(2,5-dimethyl phenyl)imino]methyl)phenol as a nonlinear optical single crystal 
R. Sathishkumar, C. J. Magesh, S.R. Thilagavathy, ,S. Tamilselvan, I. EpsyDevakirubai , K. Venkatapathy and M. Vimalan
29. An EOQ Model for Weibully Distributed Deteriorating Items with the Effect of Permissible Delay in Payments and Partially Backlogged Shortages 
U.B. Gothi, Kareeshaa Shah and Santosh Rohida
30. Evaluation of Energy Efficient Routing Protocols with Optimization Technique in Wireless Sensor Networks 
S.G.Santhi
31.Performance evaluation of Controlled Low Strength Materials (CLSM) using sustainable materials 
C. Nataraja and N.R.VadirajRao
32. Consumer's attitude towards organic food products: analysis on organic food consumers 
Nandish Manangi and Sanjeev S Padashetty
33. Urbanization in Asansol: An Impact Assesment
Riya Auddya
34. Implementation of Theory of Constraints (TOC) in a Manufacturing Plant
Harish U.C.
35. Plastic Waste Management: A Review
Anil Pratap Singh and Angom Sarjubala Devi
36. Consumer Neuroscience and Modern Marketing Research: Present Issues and Future Trends 
Soumitro Chakravarty
37. Developing and Validating a Questionnaire in the Field of Physical Education and Sports Sciences 
Poorva Rastogi And Kalpana Sharma
38. More on Multifunctions 
Nandini Bandyopadhyay and Paritosh Bhattacharyya
39. Characterization of a Newly Developed Eco-friendly Phenol-paraPhenyleneDiAmine (P-pPDA) Coating for Outer Structure Applications in Aeronautical Industries 
Abhishek Chandramohan
40. Predictive Model for Diabetes using Machine Learning Algorithms 
Ananya V, Sushmitha N and Byra Reddy
41. Cost Benefit Analysis of Small Tea Growers in Padumani Development Block of Golaghat District of Assam
Shiv Kumar Sharma
42. Localization and Identification of Mucoprotein in the Skin and Gills Epidermal Mucous cells of Cynoglossus semifasciatus (Day, 1877) 
Natarajan Elayaperumal
43. An Application of Pade Approximation and PID Tuning Technique to Improve the System Performance of Electric Ventricular Assist Device 
Soumyendu Bhattacharjee,Aishwarya Banerjee and Biswarup Neogi
44. Usability Evaluation of M-Learning Apps in the Context of User Experience 
Kamlesh Meshram and Manimala Puri
45. Women Empowerment and Micro Entrepreneurship among Rural Women– An Empirical Study in Malda District, WB, India 
Dipesh Kundu
46. Marital adjustment and Quality of Life among Nurses 
Mamman, J. C. and Savitha, K.V.
47. Effect of the levels of intelligence on problem solving ability of higher secondary students   of English and Hindi medium schools
Bikramjit Kaur Malhotra and  Daljeet Kaur
48. Design of Mastic Wearing Course Using Reclaimed Asphalt Pavement (RAP) 
Ganapathi Malarvizhi and Y.C.Thilakar
49. Section 377: Avenues of Changes 
Neha Bhartiya
50. Fiber Optic Sensor for Respiration Monitoring of Chronic Obstructive Pulmonary Disease Patients 
Huma Khan, Aviral Gupta, Sumita Mishra and Pallavi Asthana
51. Dynamic Mechanical Properties of a Newly Developed Bio-based Eco-Friendly Polyurethane (PU) Coating for Outer Structure Applications in Aeronautical Industries 
Abhishek Chandramohan and Prashaant Chandramohan
52. Flow Shop Arrangement of Heuristics-Palmer, Campbell Dude Smith Algorithm: Effective Tools to Mitigate the Travelling Salesman Problem 
Sk. Mastan, U. Balakrishna and G. SankarSekharRaju
53. Susceptibilities of certain insect pests to Beauveria bassiana (Bals.) as Bio-control agent 
Alyaa Abdel- Mottaleb Ali Gazzy
54. A Spatial Perspective on Gender Gap in Literacy in Border Districts of India 
Utpal Kumar and Deepika Sankhyan
55. Prediction of Employment in Public and Private Organized Sector in India 
Monika Saxena
56. Photoluminescent Analysis of MgAl2O4:xDy(x=1,2,3) Synthesised by Combustion Technique 
Pankaj Pathak, Manisha Singh, Pankaj Kumar Mishra
57.Optimization of Ethanol Production from Pineapple Peel by Saccharomyces cerevisiae
Ramesh Babu, M. Mastan, K. Charan and Virendra Vaishnav
58. A study on personal profile of tobacco users in Madurai east block 
P. Ramasamy
59.Reasons against Audit Exemption among SME Companies in Malaysia 
Kogilavani Apadore, Beh Chien Woon, Cheng Wei Kei, Lim Sok May,Teoh Yet Yi and Thong Joo Mei
60. A Study on the Usage of Tobacco Products among people in selected villages of Madurai East Block 
P. Ramasamy
61. Environmental Practices in Small and Medium Size Enterprises in India 
Pankaj Kumar