Volume 3 Issue 11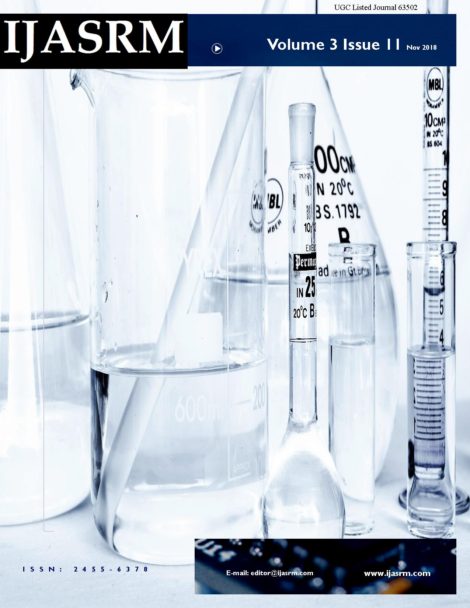 1. Real time and In-Silico Based Analysis of Heat Stress Responsive Transcription Factor MBF1c from Wheat 
Harinder Vishwakarma and Jyoti Sharma
2. Optimization and characterization of cutting parameters for EN19T material in CNC turning 
G.Nagarajan, R.Venkatesh, T. Raja and R.Chandrasekar
3. Ultrasonic Studies on Solvation Parameters of Urea in Aqueous Triton -100 at 303K, 308K and 313K 
Seema, K.Renuka Devi, J. Benazir Jiya and P.Seethalakshimi
4. Acoustic and Thermodynamic properties of sodium silicate in aqueous Ammonium Lauryl Sulphate by ultrasonic studies 
Benazir Jiya, K. Renuka Devi, R. Seema, P. Seethalakshmi
5. Teachers' Choices on Environmental Principles of Learning Effective Mathematics in Secondary Schools 
Ashim Bora and Sahin Ahmed
6. Phytochemical analysis and Antioxidant activity of Catharanthus roseus Flower extract in different solvent 
Thanga Revathi M and Joys Selva Mary Albert 
7. Polyethylene degradation by microbes isolated from municipal solid waste 
Nouzia Fathima.K and Siluvai Kirubagari Aneeshia.C 
8. Elisa (Enzyme Linked Immunosorbent Assay) Research In Global: A Scientometric Assessment During 1972-2017 
Rajendran.L
9. The surface and soil properties of azadirachta indica oil in sodium dodecyl sulfate 
P. Seethalakshmi, K. Renuka Devi, J. Benazir Jiya and R. Seema
10. Influence of Interpersonal Relationship on Job Stress of Marketing Executives of Private Banks in Chennai 
N.V.Ramachandran and Dr.R.Rajendran
11. Optimisation of process parameters to minimize defects using response surface methodology in a ceramic industry 
Neelakandan B. and Dr. C. Muralidharan
12. Molecular Structure investigation Towards Pharmacodynamic Activity of Sulfamethoxazole using Experimental and Computational Tools 
Sathya A, Prabhu T and Ramalingam S
13. α regularity and α normality axioms in a spaceα regularity and  α normality axioms in a space 
Md. Mamun Ar Rashid
14. Short-term Effect of Two Fungicides on Cellulase Enzyme Activity of Eisenia fetida Under Laboratory Conditions 
Sujoy Mandal, Partha Partim Chakravorty and Jayanta Kumar Kundu
15. Growth and reproduction of Eisenia foetida in different livestock excreta management through vermicomposting 
B Venkatesh and N Ramesh
16. Hydrogeochemical assessment of Groundwater in Sagar Island Region, South 24-Parganas, West Bengal, India
Debabrata Das
17. Intellectual Capital: Its Effect on Financial Performance of Indian Private Sector Banks 
Selvam Murugesan, Thanikachalam Vadivel, Kathiravan Chinnadurai and Dhanasekar Dhamotharan
18. Synthesis, Characterization and Application of undoped and doped ZnO- photocatalyst
M. Maria Berjilia, S. Manikandan and K.B. Dhanalakshmi
19. Analyzing Long Term Liquidity of Foreign Banks in India 
Shradha H. Budhedeo and Neha P. Pandya
20. Pages 138-148 are Blank. Paper is removed.
21. Analysis of different approaches for code smell detection 
S.James Benedict Felix and Dr.Viji Vinod
22. Starch- Based Plastic: Strength, Degradation in Soil and Water Absorbance Ability 
Manju Elizabeth Kuruvila, Nikhila Sudhakaran and Varsha Madhu
23. Inventory management techniques at hospitals 
Keerthana.S and Dr. Ch. Bala Nageswara Rao
24. Conflict and conflict resolution 
Muzaffar Ahmed
25. Morphometry And Length Weight Relationship Of Panna heterolepis (Trewavas, 1977) From Hoogly River ,West Bengal, India. 
Priyankar Sanphui, Sutapa Gupta & Arindam Dasgupta
26. Synthesis and in vitro Biological Evaluation of 6-chloro dibenzo[c,f][2,7]naphthyridine 
Arumugam Murugesh and Subramanium Parameswaran Rajendran
27. In vitro efficacy of selected fungal isolates against Colletotrichum gloeosporioides, the causal agent of leaf spot disease of Zingiber officinale Rosc. 
Sophie Phanri Majaw and Highland Kayang
28. In Vitro Anthelmintic Efficacy of Trigonella foenum-graecum Seed Extract on Haemonchus sp. (An Abomasal Parasite) in Goats 
Jyoti Pandey, Suman Mishra and Kamal Jaiswal
29. Propelling Force for Predilection of Organic Food Products 
R. S. Darranishree and Dr. P. Praveen Kumar
30. Algorithm and Matlab Program for Software Reliability Growth Model Based on Weibull Order Statistics Distribution 
Akilandeswari Srinivasan Viswanathan and Saavithri Ramani
31. Isolation and Characterization of Chitin from Alternaria solani and Assay of its Antibacterial Property 
Mayukh Das, Subhadip Brahmachari, Paulami Koley, Amitava Saha, Surekha Kundu
32. Synthesis, characterization, antimicrobial and antioxidantal activities of Mn(II) complex with 2,4-Thiazolidinedione and Acetylacetanoate ion as ligands 
L.Palanivelan, S. Balasubramaniyan, R. Govindharaju & T. Ramachandramoorthy
33. Financial Inclusion in India: Progress and Challenges 
Dr. Syed Hasan Qayed
34. Natural Frequency and Modal Analysis of a Bolted Joint Test Rig for Bending and Axial Loading 
Vishal Achwal, Rahul Lodha , S Dravid
35. An Optimization Case Study of Hybrid Energy System Based Charging Station for Electric Vehicle on Mettur, Tamil Nadu 
Champa Nandi, Somudeep Bhattacharjee and Susmita Reang
36. Aromatic Medicinal Plant Resources of Shivamogga District, Karnataka 
Nafeesa Begum and Kiran B.R
37. A Review Paper on CO2 Separation From Flue Gases In Integrated Gasification Combined Cycle Power Plant 
Rahul Srivastava and M.K. Chopra
38. Kinetics of Environmentally Friendly Phase Transfer Catalytic Oxidation of 4Methoxybenzyl Alcohol to 4Methoxybenzaldehyde with Hydrogen Peroxide

Mr. Shehbaz Ansari, Prof. U. W. Khandalkar, Prof. (Mrs.) P.R. Angre and Dr. C. K. Mistry
39. Performance of CUSUM chart under Three Delta Control Limits and Six Delta Initiatives 
Kalpesh S. Tailor
40. "Perceptive Clarification Betwixt Culpable Homicide And Murder" – An Analysis 
N. Prabhavathi, M. Malathi and A. Nirmal Singh Heera
41. Developing  cereal  pulse supplementary snack for pre-schoolers 
Jyothi  H and   Dr.L Prema
42. Application of Coefficient of range for solving Transportation Problem 
RaghbirDyal
43. Fuzzified Multi Layered Deep Neural Network (FMLDNN) for Anomaly Detection in DNS Query Logs 
S.S.Suganya and V.Kathiresan
44. Employee performance- Impact of Work environment and Organization commitment-Empirical evidence from manufacturing industry in India 
Dr. S. Umamaheswari
45. Comparison of Soil Characteristics in Tank Bed, Bund and the Command Area of an Ancient Village Tank in Anuradhapura, Sri Lanka 
M.G.T.S. Amarasekara, K.B. Kulathilaka, D.T. Mendis and C.R. Withanachchi
46. A Seasonal Evaluation of Dynamics of an Aquatic Ecosystem, Kochi, Kerala, India 
Radhika.R, Ratheesh kumar C.S., Salas P.M., Sujatha C.H,Chandramohanankumar N.
47. Synthesis and Biological Evaluation of Schiff Base Metal Complexes of Cu(II),Co(II) and Ni(II) using  (DFMPM) and L-Alanine 
Anusha A, Isac sobana Raj C, Allen Gnana Raj G
48. Comparing the efficiency of selenium and UFT through writing the test script for checking out the website for ensuring its QA
S. Julie Violet Joyslin and Dr. R. Gunavathi
49. Measuring Effectiveness of software Quality by Comparing Manual Testing and Selenium 
Suryaprabha.K and Sudha.P
50. Synthesis, Characterization and Larvicidal activity of some Transition Metal Complexes of Schiff's base derived from Glutamic acid and Pyrrole-2-carboxaldehyde
R.Subarani and P.Metilda
51. Labview based simultaneous data acquisition system for environmental parameters monitoring
Desai R. V., Bachuwar V. D., Todkari S.M
52. Heavy metals in Yamuna river: A Review
Deepa Tomar and Rupa Upadhyay
53. Preparation and Characterization of CaTiO3 Nanopowder by Using Sol-gel Method 
S. Anjelin Ursula Portia and K. Ramamoorthy
54. Carbon Nano World: An Overview 
Piyali Ghosh
55. Design and Analysis (Static) of the Roll Cage for an All-Terrain Vehicle (ATV) 
Atharva Betawadkar, Jatin Chaugule and Sannit Vartak and Guruprasad Y. S.
56. The Effect of Dissolved Oxygen, BOD, COD, Fluoride and Nitrate-Nitrogen Contents of Tamirabarani River, Tirunelveli, Tamilnadu 
O.V.Sheebha Malar, P.Kokila and C.Isac Sobana Raj
57. Delineation of Sensitive and Insensitive Zones of Saline Intrusion Along The Fresh Water Coastal Aquifers of Central Kerala, S. India Using Quality Depth Index (QDI) Studies 
A.V George, Pious Joseph K and Manju Elizabeth Kuruvila
58. Casson Fluid Flow Over A Vertical Porous Plate Under The Existence Of Cross Diffusion Effects In Conducting Field 
P. Chandra Reddy, M.C. Raju, S. Harinath Reddy and G.S.S. Raju
59. Equatorial counter electrojets in the noon time: a comparison with the events at other local times 
Muhammed Kutty P. V. and S. Gurubaran
RaghbirDyal
61. Power Quality Improvement using PV Integrated UPQC 
M. Nageswara Rao
62. Two-diode model photovoltaic system with nonlinear MPPT controller for grid connected loads 
M. Nageswara Rao
63. Medical Tourism in India 
Benita. S. Monica and Ms. Subhathra Ramakrishnan
64. Real time verification of Offline handwritten signatures using K-means clustering 
Alpana Deka and Lipi B. Mahanta
65. Seasonal Effect in Volatility-Volume Relationship at an Index Futures Market with High–Hedging Activities 
Ying-Sing Liu