Special Issue V April 2019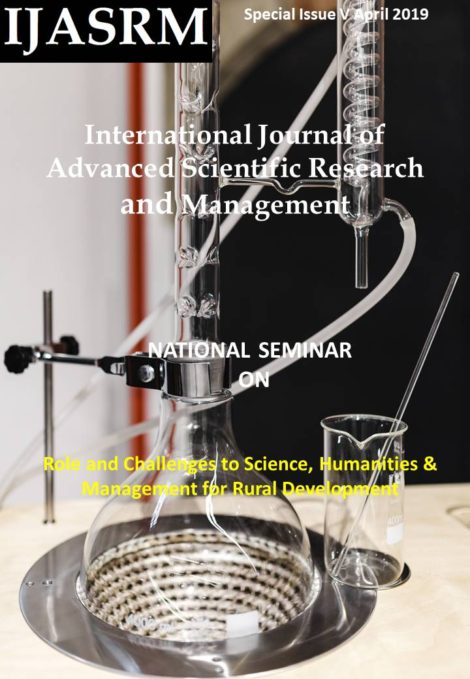 1. Using Advertisements for ELT in schools in Rural India 
Anshuta Sharma and Ritu Kumaran
2. Analysis of the Performance of Libraries and Laboratories using K-means Clustering 
Gauri Shanker Kushwaha
3. Antimicrobial Activity of Bridelia retusa Against Human Pathogenic Microorganisms 
Ruchita Tripathi, Amit Tiwari and Annu Tiwari
4. Kamal Transformation Based Cryptographic Technique in Network Security Involving ASCII Value 
Ayush Mittal
5.भोपाल के विश्वविद्यालयों के पुस्तकालयों में इंटरनेट (ई संसाधन) सुविधा: रोजगार के अवसर और उपयोगकर्ताओं का अवलोकन
बन्दना नामदेव
6. Non-Newtonian power law model on two phased arterial blood flow during lung cancer 
Dheerendra Kumar
7. Evaluation of toxic levels of fly ash in two of the fresh water fishes Channa punctatus and Puntius sophora
Sushma Singh and Shikha shrivastava
8. Madhya Pradesh ke gramin vikas mein sarkari yojnao ka yogdan 
Monika Malviya and Mradulata Sikarwar
9. Garibi unmulan ( janjati ke sandarbh mein ) 
Anjali Garhwal
10. Grameen aarthik vikas mein sarkari yojnao ki bhoomika 
Bhawana Thakur
11. Khelon ka mahatv vyaktitav vikas ki mahti avayashakta 
Manoj Kumar Verma
12. Comparative Study of Public And Private Telecom Wireless Services In India 
Neha Shrivastava
13. Study of Virtualization Software in the context of VMware Infrastructure 
Dev Ras Pandey and Bharat Mishra
14. Studies and development of the bio-batteries using cow's excreta (dung and urine) as an electrolyte 
Raj Kumar Rajak
15. Solid Lipid nanoparticles as a novel carrier for effective treatment of cancer 
Sourabh Tiwari1 and Ravi Upadhyay
16. Rural Development through Film and Literature: Impact of Satyajit Ray's Films, Pather Panchali and Sonar Kella in Boral and Jaisalmer 
Meghna Ghatak
17. A Mathematical Analysis of Artery with special reference to Jaundice 
Rizwan Ahmad Khan, A.K.Agrawal, Dheerendra Kumar, V.upadhyay and P.N. Pandey
18. Young Minds of Agricultural Families and their Occupational Aspirations 
Aabid Ali Rather and Mussaib Ibni yousuf Anznoo
19.Review on Traditional Therapeutic Approach for Microbial Infection with Ethnomedicinal Plant-Vitex Nigundo 
Ruchita Tripathi
20. Statistical Assessment of the Heavy Metals Pollution of Water and Sediment in the river Mandakini
R.K. Shukla, G.S. Gupta, D. P. Singh and Mahendra Kumar Mishra
21. Globalization a Paradox: An Assessment of Women Empowerment in India 
Arti Srivastava and Parvaz Ahmad Khan
22.In vitro shoot regeneration of Populus nigra 
Yogesh Pardhi, Ankur Dahayat, Monika Ganwir and Mahendra Kumar Mishra
23. Madhya Pradesh mein anushoohit janjateiyon e chatra chatraon ke liye ( kendriya Prayoit aarthik yojana ke vishesh sandharbh mein ) 
Sunita Pandron
24. Chromatic number and chromatic index of product of two isomorphic regular graphs 
Ashish Kumar, Mohit James and Bhavana Singh
25. Grameen evam krishi sanrachna – Yojana ek pehal 
Malsingh Moori
26. Phytodentistry: Potential Application of Traditional Medicinal Plant Extracts in the Prevention and Treatment of Oral Diseases. 
Kamini parmar
27. Solid-state lighting in favors of White Light Emitting Diode (LED):  a Review 
Nidhi Malviya, Vinita Rajput Chouhan and Manisha Sonel
28. Antiradical And Electrochemical Behaviour Of Some Palladium(II) Complexes 
Kalpna Trivedi, Indra Prashad Tripathi and Mahendra Kumar Mishra
29. Medicinal Plants: Role in treatment of Diabetes 
Mahendra Kumar Mishra
30. Synthesis and Characterization of Some Zn(II) Complexes of L-Glutamic Acid and L-Aspartic Acid 
I P Tripathi, Aparna Dwivedi and Mahendra Kumar Mishra
31. Quantitative Screening of Phytochemicals of Different Parts of Ficus benghelensis Linn. 
I .P. Tripathi, Poonam Pandey,Poonam Chaudhary,Mahendra Kumar Mishra and Vandana Pathak
32. Assessment of Stone Crusher Pollution and Its Control Measures 
Anjani Gupta
33. QSAR studies of β-Carboline derivatives as potentantiviral agents 
Purushottam Das Soni, I.P Tripathi and M.K. Dwivedi
34.Present Situation of Information and Communication Technology in rural areas 
Satish Kumar Mishra and Bharat Mishra
35. Role and Challenges of Space Weather on Human Society, & its Management with the help of Ionospheric TEC 
Himanshu Chaurasia, Neelam Chaurasia and Gyanendra Pandey
36. Role of Animal Husbandry on Rural Trends and future prospects in India
Priti Mishra and C. P. Gujar
37. Sarkari yoznao ka grameen vikas mein yogdaan ka vishleshanatmak adhyan 
Mahender Kumar Jain and Nikhilesh Kumar Jain
38. Role of ICT in libraries 
Sunil Kumar Jain
39. Grameen evam krishi vikaas ( Aarthik sudhaar ek abhinav pehal ) 
Nisha Vishwakarma